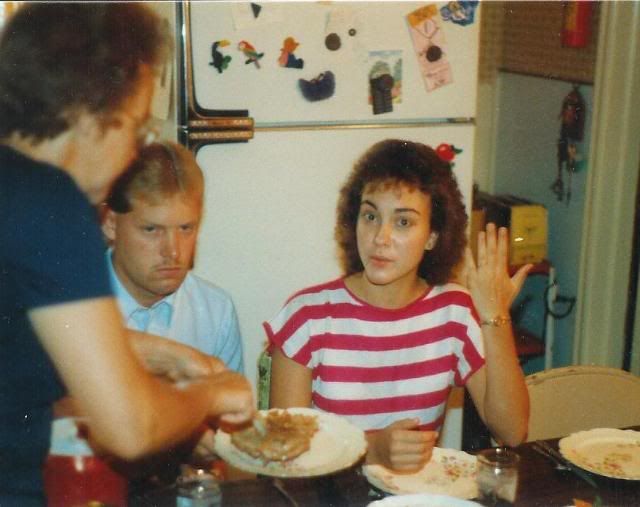 Here I am, showing off my engagement ring to my parents. Jeff, king of the funny faces, is looking rather glum. I don't think he meant it...but I also don't imagine he was all that comfortable. :)
This was rehearsal day. We're standing at my parent's back door. It was a little parsonage of a United Methodist Church in Southern Illinois. Notice the looks on our faces. He's giving his, "whatever," look, which says that he was humoring me. I'm giving my "mildly put out" look.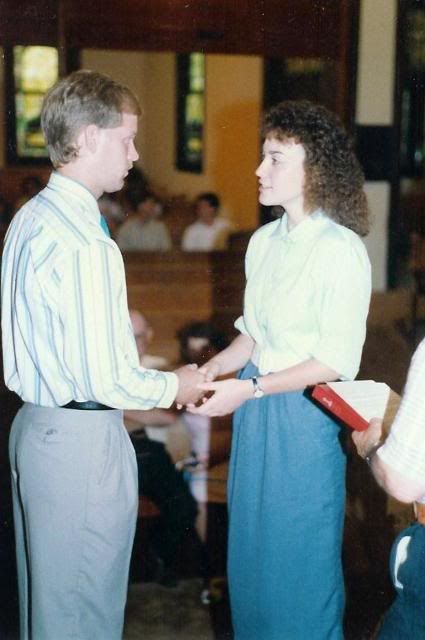 Rehearsal. Neither one of us likes to be the center of attention, so it was an awkward time for us. We really just couldn't wait to get the ceremony over with, and just be married, already.
My brother was supposed to walk me down the aisle. For the rehearsal, he carried me instead.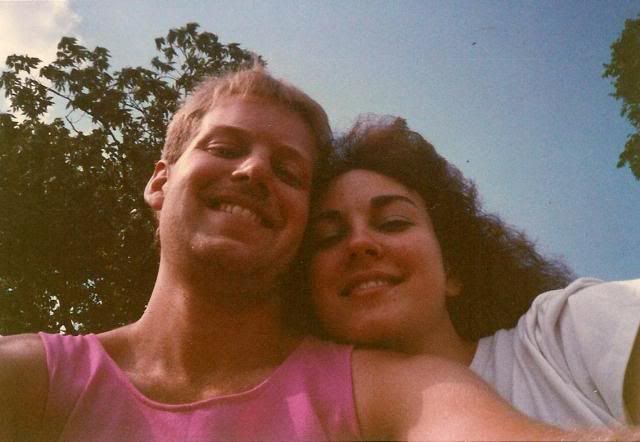 Here we are, with a cheesy self portrait on our honeymoon.
I think we look very happy. :) We were married at ages 20 and 21, but we both have always felt
that we could have married even younger. We've never looked back.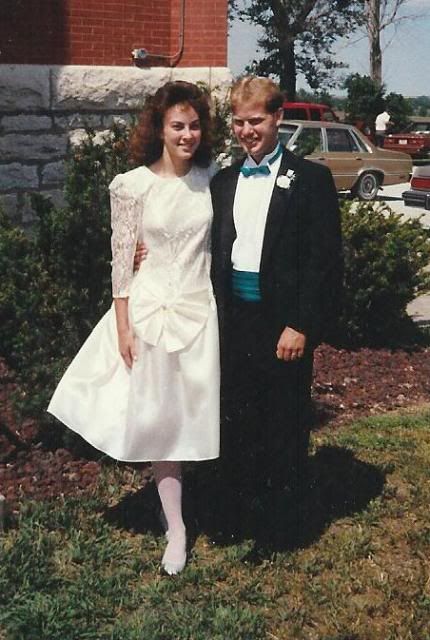 I won't post wedding pictures here, because I've posted them before.
Jeff was in a wedding a week before ours, and a week afterwards.
This was taken the week following our wedding. I loved that dress, bow and all.
I had originally planned that it would be my wedding dress, but most people voted for a full-length traditional style wedding gown. I still wish I'd worn this one.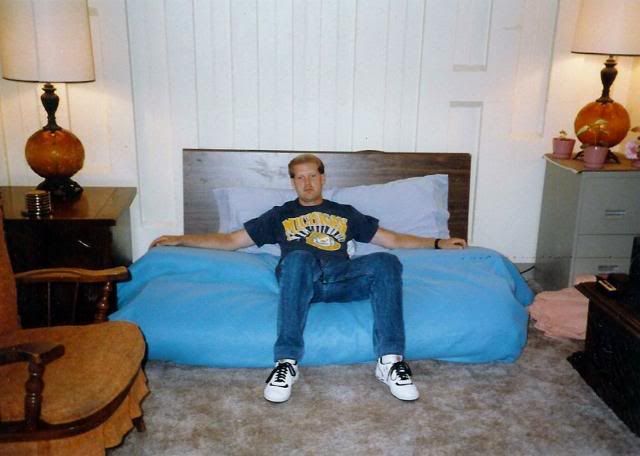 We lived in married student housing. It was so very small, a loft apartment.
I still felt overwhelmed by ALL OF THE WORK I HAD TO DO. (I look on that in restrospect and almost laugh myself silly. What, exactly, did I have to clean?) The water heater was so small that it would only heat enough for one very short shower, the bathroom was so small that one could rest on the commode and reach the sink at the same time. This...thing, upon which Jeff is reclining, was our "couch." I don't know for sure what was under the blanket. Maybe some cushions Eventually we got a better couch and we STILL had to prop it up with old commentaries.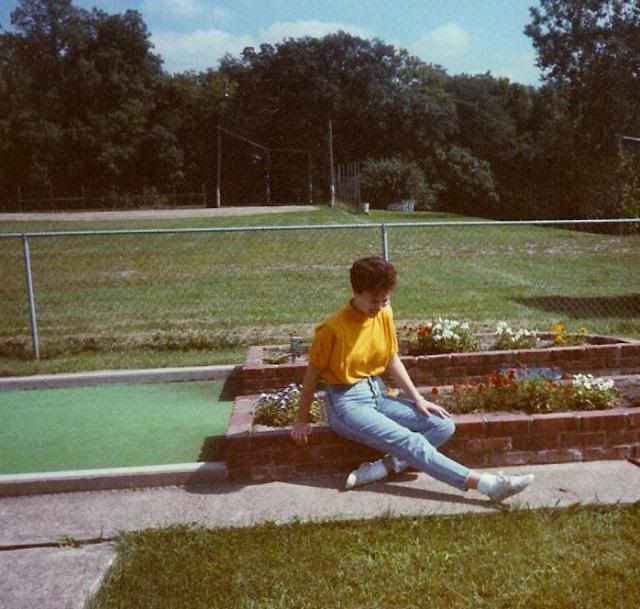 I worked days as a Publications Coordinator for the college. I wrote a newspaper column, wrote press releases, and designed the college magazine. In the afternoons, I answered the college switchboard. I took a few more college classes, just for fun. Jeff finished his senior year, worked in the shop, and worked as night security, locking up the buildings. We ran a little miniature golf course for a summer. I loved planting the flowers that year, I'm sure that's what I'm supposed to be displaying here. You might notice that I cut my hair short. I'm pretty sure that I am wearing what is called "mom jeans," even though I was a long way from being a mom. :) For sure,we never dreamed that I'd be a mom of eight kids.
This is inside our apartment. Obviously, it was Christmas time. Jeff was working on homework...or maybe it was baseball stats. Who knows. :)
Thanks for coming along as I've scrapbooked this weekend. I'm really glad that I started back in. I'm making good progress already, and the kids are enjoying watching as I go. I will probably continue to share some pictures over this winter as the process continues.